9 ways to create wall art with Paper
Close your eyes for a minute and think back to when you were a child. Remember how creative you were? How you had the benefit of not knowing that impossibility exists, how everything was feasible, when you believed in fairy tales and magic, as far as you were concerned everything had a solution…remember? Well to be truly innovative you have to think like a child,  forget about rules, the rejections you have experienced, forget about your failures and humiliations. JUST be a child again. Today's post is an exercise to get your creative juices flowing. The primary tool you need is a glue gun and some glue sticks. Glue gun is extremely essential in a home, I use it for anything and everything, infact i have once used it to glue fondant to a popsicle stick. Yep! You best believe it. Glue guns can be purchased on Ebay or Amazon, for my Nigerian people you can buy yours at Shoprite.
Paper is awesome as it is cheap and easy to work with, it also transforms and embellishes just about anything in your home. I have used scrapbook paper in the past to create wedding decor, spice up my walls, transform boring objects, and create seasonal decorations for parties. Here we go…
1. Tightly roll-up magazine pages and glue onto a canvas, you can just go the easy way of gluing in a straight line or be more dramatic as in the image below by Etsy.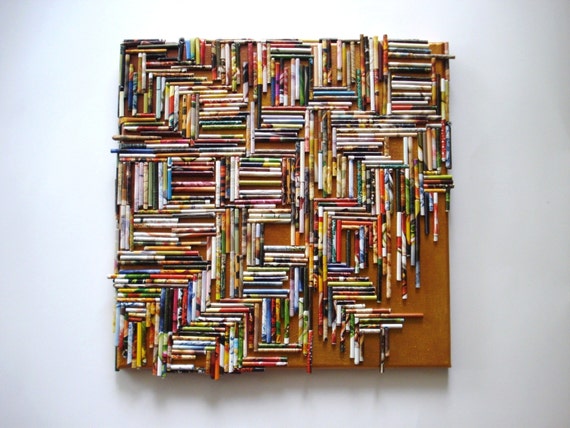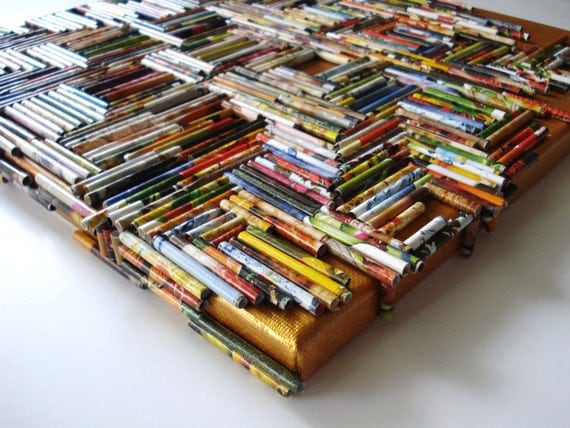 2. Create a Heart shaped 3D wall art with some paper, glue and scissors as in this tutorial below.
3. Go Big with this Colourful Wall Flower Art, this may take some time to create as it involves making your own flower cut-out of different sizes from paper, layering them and spray painting them in various shades of the same colour.
4. Use paper to create geometric patchwork art like this one by  The Red Thread Blog
make it heart shaped
5. Are you eccentric? If you are then this might be your thing.
6.  Cut  foil papers into different size butterflies using 'butterfly paper punch'.
Here is another idea for your little girl's room.
7. Create the Christmas mood for less with this 3D holiday holly wall by Snow & Graham. All you need to do is double your paper and cut out a template which you can then trace to make copies. To achieve the 3D effect please refer to number 2.
8. How about you make a polka dot decal set instead?
9. Use paint chips or bright construction paper to create this pixelated wall art by A Beautiful Mess. I love it with or without the quote.
Unlabelled images by Pinterest